Lathes in numerical control plate that work metals like iron, aluminum, steel, brass e copper in various qualities, starting from a minimum thickness of 5/10 up to thicknesses of 30/10 with diameters up to 1000 mm. The slab turning process, also called lathe or flow forming drawing, consists of progressively deforming a sheet metal disk using a roller tool, so as to make it adhere to the mold on the mandrel. The processing is carried out with various successive steps which involve limited reductions in thickness. This processing becomes particularly advantageous in the production of small / medium series, since it has reduced time and costs perfor the realization of the equipment (molds) and allows rapidity in the installation of the equipment to start production.
The deep drawing or cold pressing of the sheet is a process that through the use of mechanical and hydraulic presses, deforms the sheet to obtain a hollow product through one or more passages. Under the pressure of a mechanical or hydraulic press, the sheet form is forced to pass into the thin space between a punch and the mold obtaining the desired shape and avoiding the formation of wrinkles.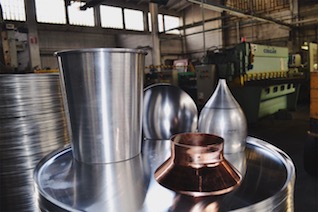 The production of TORNILASTRA srl ranges in several sectors:
Both civil and industrial and urban lighting
Furnishing components
Bathroom furniture components
Mechanical components (fittings, valves, filters, caps, tanks, flanges, rings and more)
Raw materials such as sheets, iron, aluminum, steel and brass are always available in our warehouse so as to guarantee punctual deliveries.